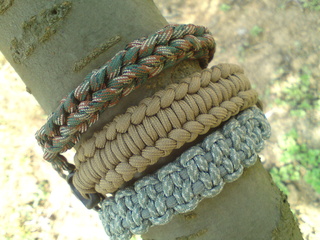 Here are a few new fusion ties I came up with recently.
The woodland camo one is a just a double Caterpillar Sinnet.
The coyote brown one is a slight modification of the Single Genoese Bar.
The last one (in ACU camo) is a try to combine the Solomon Bar and standart weaving technique.
Note that I don't know if any of these ties exist already.
Also there is half a dozen fusion knots I am going to show in the next few days so stay tuned.
Greeting from Bulgaria
Kiril